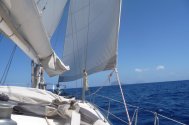 The Naran is a Ketch, a 55 feet long sailboat with two masts. It represents the ideal way to live a relaxing sailing holiday in Italy or to spend a week learning the basics of this special passion. The Naran sails the Mediterranean Sea, from Sicily to Sardinia to the Elba's Island, reaching also Croatia, Istria and Greece and the Baleari Islands and that means blue sea, white beaches, long nights under a starlit sky...This spring will be sailing in France and during the summer in Sardinia and Corsica on both cabin-charter and crew-charter basis .
A unique holiday on the Sea
A sailing holiday in Italy on the Naran sail boat is more that a simple vacation, it is a bath in the deep blue of an inlet where you can still hear pirates' voices, it is an afternoon spent hearing the silence of the sea, it is an aperitif waiting the sunset or a fish restaurant located in a place forgot by the world, it's adventure...
Choose your kind of sailing holiday in Italy
Exclusive-charter with crew (skipper & hostess)

Cabin-charter
Crew-charter

Sailboat rental with crew (skipper & hostess)

Single boarding
Holiday for singles